Essential Tools: 3DXchange
Reallusion's 3DXchange for iClone is an incredible and must have tool for converting obj and 3ds based models into the vns format for use in iClone.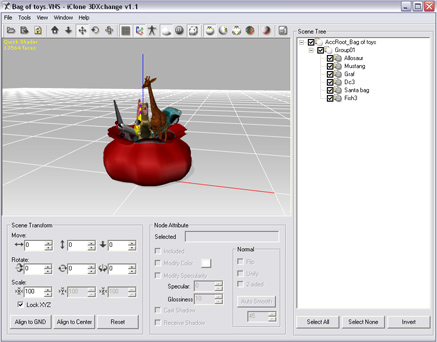 This powerful tool allows you to rescale, recolor, edit specularity and other features and well as recenter props and accessories so they won't spin around a large axis when trying to place them.
From the Reallusion website:
3DXchange is a conversion utility that transforms most 3DS or OBJ files into real-time models for use inside iClone. Content from external 3D modeling applications and model banks such as Zbrush, 3D Studio Max, Maya, Google Sketchup, TurboSquid and Renderosity may be imported into iClone as props, accessories or 3D scenes. Along with offering an unlimited content generator for iClone moviemaking, 3DXchange also loads existing props, accessories or 3D scenes from current iClone content (VNS) so you may make changes to iClone objects' position, orientation, size, specularity, shadow or other attribute settings to further customize any iClone model. 3DXchange lets you generate massive model libraries for props, accessories and scenes for iClone film productions.
Click here for more information from Reallusion on 3DXchange.